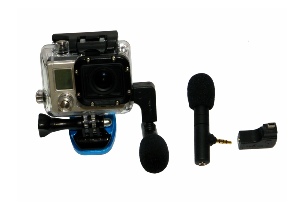 More focused sound than with the built-in mic
Hyper-cardioid shotgun design reduces unwanted sounds from the back and sides

Included foam windscreen reduces wind noise

Rear headphone jack to monitor sound without removing the microphone

No batteries required for operation

Monitor sound while video recording with your GoPro camera or with supported Appls like FilmicPro, MoviePro, and MightyMic Pro Recorder (IOS Only) on the Apple App Store
The MightyMic G microphone brings big sound from a small microphone. Don't be fooled by the compact size. This is a high quality condenser microphone that does not need any batteries as it is powered by the device. So you never get stuck doing that big video shoot only to find out the batteries are dead. Just plug it into the adapter jack and then connect this to your device. Then connect your headphones into the 3.5mm stereo headphone jack on the back of the microphone. Then you can listen to the sound while recording videos. It also works with iPhone, iPad, and iPod Touch, Samsung Galaxy and other devices.
Note: This item is for the Hero 3 and 4 and does not work with newer models






Item: MightyMic G
Price: $54.99
Replacement Parts
MightyMic
®
G Shotgun Video Microphone for GoPro/iPhone