SKU/Item Number AMP IP421
Play your instrument through your iPhone® device and listen at the same time through your instrument amplifier

Zero latency, no batteries required, does not use device power

Works with virtually all Apps

Patent Pending circuit provides necessary loading

6.5 foot cable length for easy access to iDevice
The IP-421 iJAM Cable allows you to play a guitar thru your iPhone®, iPod Touch®, or iPad® and listen to the sound through your amplifier. Connect the 1/4" phone plug into the normal input on your amplifier, plug the 1/8" mini plug into the headphone jack on your iPhone, and plug your instrument cable from your guitar into the 1/4" jack on the IP-421. Download apps such as GarageBand1, Amplitude, iShred, Guitarfx, Jam Amp, RiotFX, Jammit, RecordStudio, etc. The circuit inside the cable eliminates popping found with other cables and does not drain device batteries or need batteries like other brands.
Works with iPod touch® version 3 and higher (iOS 5 Software or higher)

Works with iPhone® version 3GS and higher and with all iPad®s (iOS 5 Software or higher)
Note: The GarageBand Amp Module normally reverses the phase between L/R channels so the monitor output is canceled but recording will still work. You can defeat this in the settings under Crosstalk Protection but the input volume must be set to minimum.
IP-421 iJam Instrument/Amplifier Interface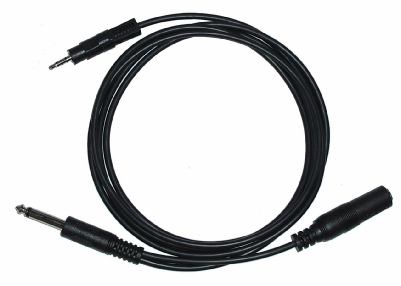 Discontinued-But may be
available at a local dealer or online